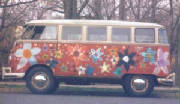 Our 40th Reunion is this weekend! Registration extended to assist Football Event (see MORE below). Register NOW!
Lodging still available at Westpark. Lodging is separate from the reunion registration - reserve now if needed. See link to
Hotel and More
to register, print map, etc.
More New INFO Below:

See Football Event link for Friday, Sept 25th half-time Celebration! AND more below...
W-L Class of 1969 40th Reunion Weekend
Washington-Lee H.S.
Homecoming Game & Alumni Association Reception
Friday September 25, 2009
Pregame Reception in the 4th Floor Library: 6:30 PM
Homecoming Game, W-L vs. Falls Church: 7:30 PM,
GameTickets - $5.00
Designated bleacher seating for the Class of 69

The Washington-Lee High School Alumni Association will host its second annual Homecoming Reception before this year's homecoming game (W-L vs. Falls Church) on Friday, Sep. 25th, starting at 6:30pm. The game is scheduled to start at 7:30pm.
As part of our 40th reunion, the class of 1969 will be participating with the Alumni Association's pre-homecoming game reception. The reception will be in the Library at Washington-Lee, which overlooks the football field. Join us and mingle before the game. Pick up copies of cheers and sign up for Alumni Association; only $10/year and helps support the Alumni Association and our school.

Please shoot an email if you will be joining us at the reception and the game so we have an idea of attendance to catherinebridgers@cox.net

Thanks and Go Generals!

W-L 40th Reunion Committee

See new Go Go Boys Cheers at Photos and Images

FORTY new registrations in the past three weeks. See the list below. See Teachers who are attending also!
See the Picture! Small mini-meet held in Portland, OR this week. Attendees were Bill Wilber, Susan Millar, Connie Dunne, Tim Dehne, Gary Wheeler, and Doug Russell.
See
Committee Notes
for latest planning news (July 18). AND - New Item - see note from one of our teachers at that link.
New! See a picture added of a small mini-meet held on the July 4th weekend off Marcy Rd near Steve Deady's 'old home'.


New!
Copy of
Go-Go Boys Cheers
from 1967 (see link to photos and images). We don't think these are all the cheers that we used in 1969. If you remember others (or have some good ones we can use at the Friday night football game) please send them.
Letter from one of our teachers.....

Dear Bill, Thank you for your invitation to the class of 1969 reunion. You are a wonderful group who should be proud of your association with Washington-Lee, as I am. My family's association with W-L extends from the 1920s to 1988 with three generations of W-L graduates and my own 35 year career in the Arlington school system. Your class is one year ahead of my oldest son Mark's class. Mark's brother Vern graduated in 1972, and his youngest brother Kirk graduated as a valedictorian in 1981. I graduated in 1950 and my wife in 1951. Strong memories and feelings for this truly unique and magnificent school and the people who have walked its halls continue.

Although I appreciate your invitation and would like to attend the various events included in your reunion, age puts limitations, and it's best that I decline.

Best wishes to all, Dana Pond
See Group Shots From Richmond, Arlington, and Denver Mini-meets. See List (30+) from the Arlington Meet
See link to Bios
If you are reading this from the Internet
and have not received email from us, be sure we have your email address (See Roll Call) AND be sure to mark our email as NOT SPAM. Many more emails to follow.
Watch for Email Alerts. Check your Spam Folder.
Tell your classmate contacts about this webpage. Stay in touch!
=======================================
Committee members:
Karen Todd Anderson, Chairperson (Deceased: 3.7.09), Cynthia Booth Santoli, Sean Carey, Pat Caruana Owens, Diana Castle Fredenburg, Shellie Chambers, Angela Dinkle, Lorraine Drance Walton, Catherine Faul Bridgers, Bonnie Gillespie Keul, Wes Hirschorn, Adrienne Holt Clayton,
Kent Krotzer, Phil Nelson, Randy (Steve Rogers), Frank Sweigart, Mike Taylor, Marilyn Tucker Nicol, Nancy Wallace Davis, Susan Wells Adler,

=======================================

Donations will be used to upgrade hospitality suite, food venues, invite teachers, printings, add mailings, and other as identified. Donors listed here and on printed items later unless otherwise notified. You can use the Donation link on the Register page! Or, send check to Wl69/BHR, 540 Meadow Dr, Bristol Va 24201
The Committee thanks you!

Donations: Charles Batten, Dorothee Blum, Karen Todd Anderson,
Bill Wilber, Helen Hill Shewman, Marilyn Tucker Nicol,
The list of registered as of 9.25.09.
This list will update as registrations are received. This list confirms your registration.
Badge Team will use this list also. Report any needed edits.
Teachers attending....
Lester (Jack) Wilson (Guidance Councelor)
John Englishman-- (History)
More to be added....
WL 1969
Guest Name
State
Charles T Adams-Arnold
Charles T Self
VA
Jaime Aleman
VA
Susan Wells Adler
CT
Mary Crabtree Bailey
OH
Charlie Batten
PA
Don Bell
VA
John Bittenger
VA
Dotti Blum
PA
Cynthia Booth
Dennis Santoli
VA
Van Brower
Krista
CO
Susan Cahill Aylward
Bill
VA
Sean Carey
VA
Frederick Carmichael
NJ
Patricia Caruana Owens
VA
Candace Carver Kramer
Kit

CO
Kirk Carpenter
Lynn
VA
Diana Castle Fredenburg
Mark
VA
Shellie Chambers
Kitti Durham
MD
Johana Chobot
CO
Phyllis Crampton
VA
Mike Christessen
VA
Richard Collegeman

MO
Patricia Crapps Winchester
FL
Jay Cruse
VA
Ronald Cuffe
VA
William Denio
AR
Barry De Marr
Geri
VA
Angela Dinkle
VA
Lorraine Drance Walton
VA
Connie Dunne
OR
Gail Escola Young
VA
Vicki Ettleman Futscher
Robert
VA
Catherime Faul Bridgers
Robert
Va
Rudy Fearson
SC
John Fiorio
VA
Joan Gilbert Fredericks
VA
Tom Gill
VA
Carolyn Gilliam Pociask
Joe '67
VA
Paulette Gillispie Keul
Guest

VA
Carol Gray Neam

VA
Nancy Hagan Cook
VA
Ross Harding
Mary
TN
Marcia Helwig Wiggins
Dennis
ME
Brian Hilburn
VA
Helen Hill Shewman
OR
Lionel Hirschhorn
VA
Adrienne Holt Clayton
David
VA
Ken Human
Kim
TX
Marilyn Johnson Smith
VA
Kent Krotzer
VA
John Kulick
Ruth
VA
Jonathon Lawson
Guest
VA
Devon Leeper
VA
Pat Logan
Jean
NC
Doris May Campbell
SC
Thomas Merical
Barbara
VA
Mary Miller
Dennis Farley
DC
Dean Mimms
FL
Constance McAdams Williams
Robert
VA
Gayle McConnell
NH
David Nash
VA
James Nash
Deidre Coppage
VA
Philip Nelson
Anne Parten
VA
Obie Obannon
Ellen
DC
Brenda Ogrady Liistro
Paul
CT
Bonnie Oles
UT
Regina Overholt
VA
Robert 'Bob' Paul
Phyllis
VA
Betsy Pearce Good
VA
John Reid
VA
John Renner
Joan
VA
Anna Reyner
CA
Iris Rhodes Woodell

WV
Bill Richardson
VA
Dorothy Rich Becker
MD
Margaret Ricker Carmichael
NJ
David Ridgely
TX
Steve Rogers
VA
Linda Rowland Burrow
VA
Betty Scott-Boom
VA
Wanda Smith Stump
Butch
VA
Kaila Smith Wilkes
CO
Robert Spauls
VA
Jill Stark Jeter
William
SC
Bodo Stock
Mary
VA
James Storie
Nancy

VA
Frank Sweigart
Annette
VA
Mary Tama
VA
Mike Taylor
WV
Gary Thompson
Nancy Lees-Thompson
VA
Marilyn Tucker Nicol
VA
Andy Anderson

(Karen Todd)

FL
Sally Vanskiver
VA
Alan Walker
VA
Doug Walton
VA
Frank Wharam
Debra Talley
VA
Gary Wheeler
OR
Bill Wilber

VA
Seth Wilson
VA
Mary Wolfe Kornelis
Keith
AK
Parris Woodbury
Laura
VA
Gregory Zell
VA
Wooden Replica is available from WL Alumni
Enter supporting content here