Fantastic minireunion held this week (August 11,2009) in Portland, Oregon. The people are (Bottom row left to right: Tim Dehne, Gary Wheeler, and Doug Russell Top Row-left to right: Susan Millar and Connie Dunne. Tim, Gary, and Doug all live in Corvallis and drove to Portland. Susan and Connie both live in Portland. Bill Wilber present to snap the photo. It was a great time.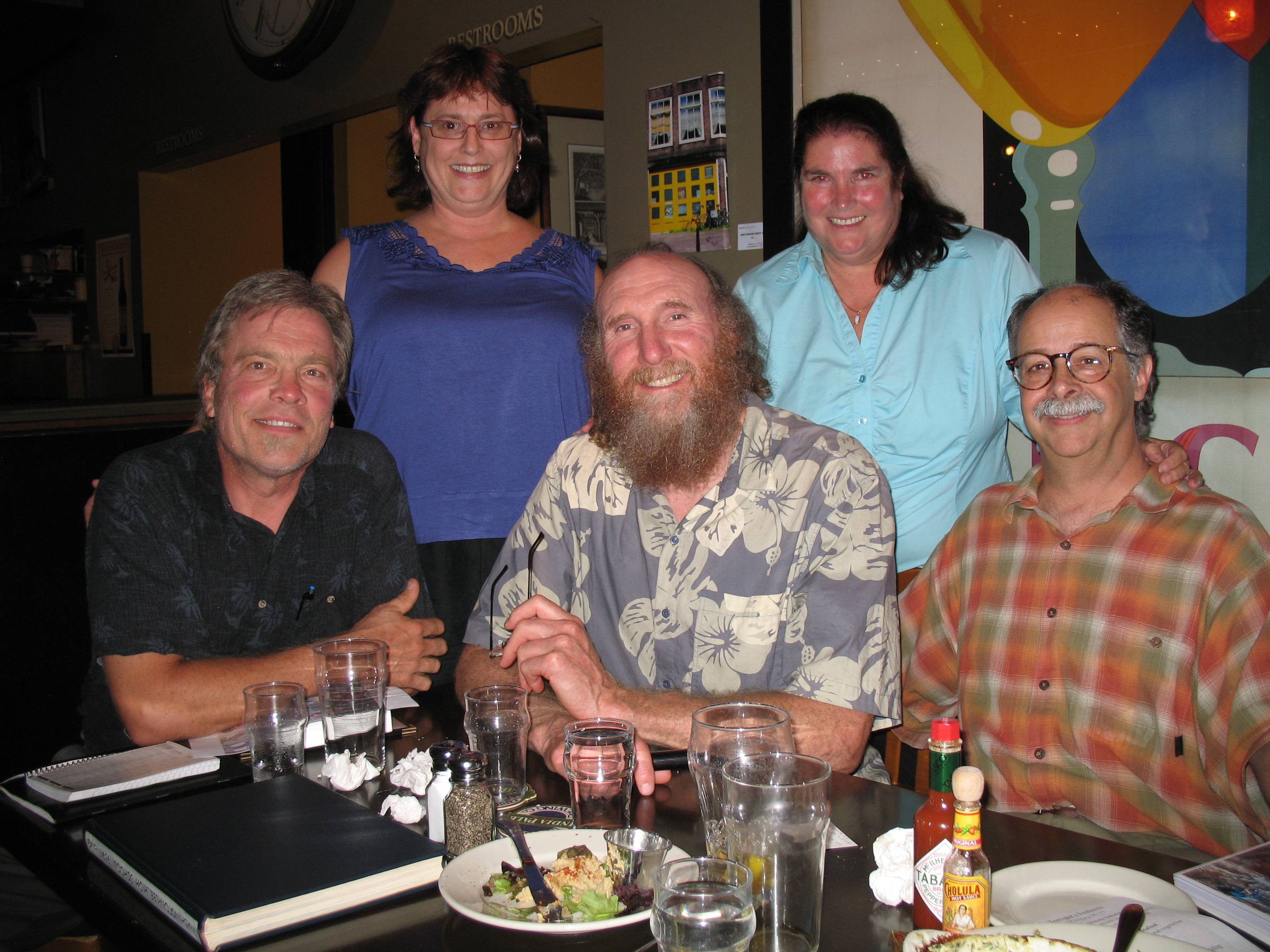 Front row: Bill Richardson and furry friend; Ken Gray, Jim Storie, Greg Zell, John Fiorio, Dean Mimms, Bill Wilber
Back Row: Obie O'Bannon, Jamie Nash, Steve Deady
Mini-meet near Steve Deady's 'old home'.
Latest Adds - Go Go Cheers! - See two pages way down.
Arlington Mini-meet - See attendees and other meets below.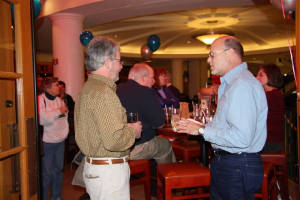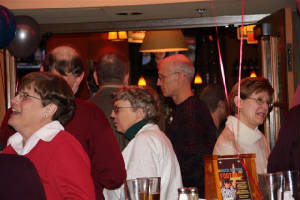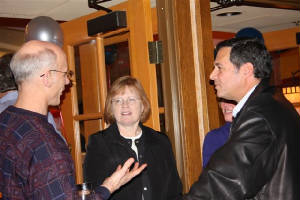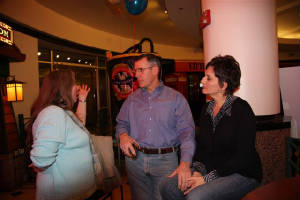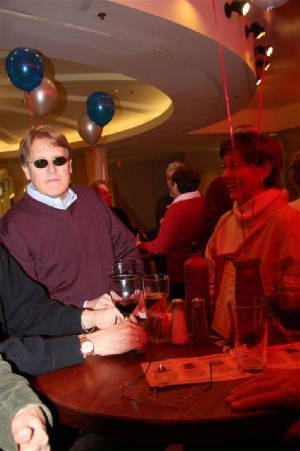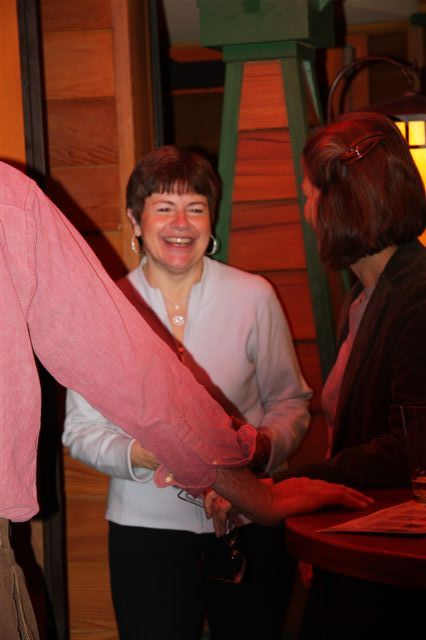 .
See list of Arlington Attendees below.
See Denver and Richmond meet pictures below.
.
Picture above from the Denver Prereunion (Dace's term) March 5, 2009, Old Chicago Brewery, Lakewood, Colorado. Thanks to all who helped and attended!

Left to right. Dace Carver Kramer, Cheryl Odeen Dewoina, Kaila Smith Wilkes, Van Brower, Joanna K. Chobot, Susan Saunders, Jim Saunders, George Muirhead, Linda Wilkins Muirhead
---

The Richmond Mini-Meet Group - Left to Right - Marilyn Tucker Nicol, Jim Storie (in the hat), Rick Galloway, Gayle Sefton Galloway, Wendy Meadors Geiger, Roy Geiger, Deb Talley, Frank Wharam, and Bodo Stock.

Just a short note to let you know that the first mini reunion was a great success--and a lot of fun. Thanks to Marilyn Tucker Nicol for getting it organized and to the rest of the "Legends 9" that made the effort at the end of a work week to reconnect. Lots of stories--about the past and present; catching up on lives and families--kids and grandkids. Bill Wilbur
LIST OF ATTENDEES at the ARLINGTON MEET - Several Small Group shots are at the top of this page.
MORE NAMES TO BE ADDED
Last Name

First Name

Current Name

Adams-Arnold

Charles J.

Batten

Charles W.

Bittinger

John W.

Blum

Dorothee J.

Booth

Cynthia A.

Santoli

Bustle
________________
Carey

Brenda
______________
Sean B.

Thompson
_____________


Castle

Diana L.

Fredenburg

Christesson

Michael

De Marr

Barry B.

Del Re

John W.

Drance

Lorraine K.

Walton

Fiorio

Gianfranco R.

Hagan

Nancy

Cook

Hirschhorn

Lionel W.

Howard

Theresa M.

Fulton

Johnson

Marilyn R.

Smith

Kreachbaum

Janet E.

Bush

Krotzer

Kent P.

Laird

Ronald D

Overholt

Regina

Pierce

Donald A

Reid

John J

Richardson

William R

Stoudt

Allen D

Sweigart

Frank

Taylor

Michael

Wilber

William G

Woodbury

Parris M

Wright

Regina

Zell

Gregory A
And - Phil Nelson, Joan Gilbert, and Phyllis Crampton
Watch for more mini-meet groups to appear here.
Photos and Images
Help us add to our collection. We have over 125 photos and images from our school days including classmate candids, events, memory items, hangouts, ticket stubs, and more. See a few below. Check back often to see what is added.
What you can add? Find it. Scan it. Send as email attachment and as jpeg format if possible.
GO GO Cheers 1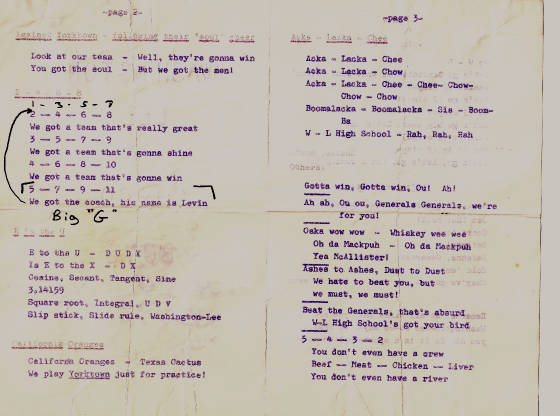 Go Go Cheers 2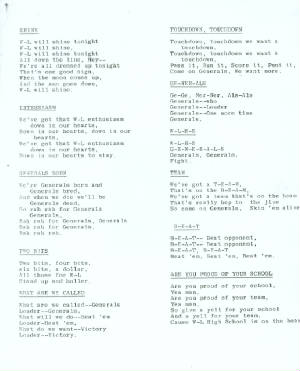 AND - We are looking for more like these for use in the Reunion Powerpoint Show. We are very interested in finding old photos of school days, events, sports, classes, clubs, activities, dates, concerts, and other. Some of you still have these items. Please scan and send to us and in jpeg format if possible.
WL - 50s and 60's Places and Things


Click to The Sixtie
s
Wacth us Grow! Stay in touch! Register Early (when we are ready). Find the Mates!